RACE Collaborates to Expand Acute Cardiac Care
Partner:  Duke University, Wake County EMS, University of North Carolina
Geography:  North Carolina
Background: Since 2003, a dedicated group of medical experts in North Carolina have been collaborating on a project designed to develop and improve a regional approach to cardiovascular emergencies.
The program is called RACE (Reperfusion of Acute Myocardial Infarction in Carolina Emergency Departments). The goal of the project was to increase the rate and speed of reperfusion for patients with ST-elevation myocardial infarction (STEMI), through system changes in emergency care.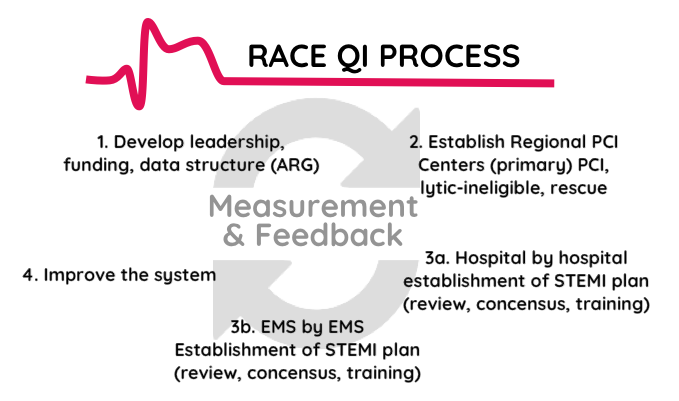 The Story: The RACE statewide system has enlisted 122 hospitals, 540 emergency medical systems, and thousands of health care professionals to direct coordinated quality improvement efforts to provide timely reperfusion.
The key elements of the system include regional organization and coordination, institution of the single best plan for treatment at every point of care, ongoing measurement, prompt feedback, and the establishment of teams of healthcare professionals that span all aspects of STEMI care.
The recommendations of this project are based upon established guidelines, published data, and the knowledge and experience of numerous individuals specializing in acute myocardial infarction care.
Learnings: The results of the initial RACE project were published in the Journal of the American Medical Association in November 2007, demonstrating substantial improvements in all treatment times across the state. The RACE project was named one of the top 10 advances in heart disease by the American Heart Association and is being utilized as a national model for STEMI care.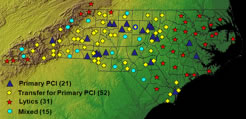 Additionally, the RACE "Operations Manual" was created to guide these systems in implementing the optimal specification by point of care. The manual contains both basic and advanced recommendations that represent features of systems of STEMI care likely to increase the rate and speed of coronary artery reperfusion.
Now, building on the RACE project, the program has expanded to encompass all acute cardiovascular events. In fact, RACE now stands for "Regional Approach to Cardiovascular Emergencies" North Carolina is applying its expertise in developing and supporting community to state-wide initiatives that focus on a systems-based approach to the improvement of SCA survival. So far, more than 50 percent of the population is now covered by the RACE program. The North Carolina HeartRescue partners will look to its statewide colleagues to coordinate training, community and system-wide response, and the application of best practice treatments among the general public, first responders (police/fire), emergency medical services (EMS) and hospitals.