CARES: The Cardiac Arrest Registry to Enhance Survival
Without a uniform and reliable method of data collection, communities cannot measure the effectiveness of their response systems, nor can they assess the impact of interventions designed to improve OHCA survival.
CARES was developed to help communities determine standard outcome measures for out-of-hospital cardiac arrest (OHCA), allowing for quality improvement efforts and benchmarking capability to improve care and increase survival.
CARES is a secure, Web-based data management system in which participating communities enter local data and generate their own reports. Communities can compare their EMS system performance to de-identified aggregate statistics at the local, state, or national level and discover promising practices that could improve emergency cardiac care.
Participation in an OHCA registry enables communities to compare patient populations, interventions, and outcomes with the goal of identifying opportunities to improve quality of care and ascertain whether resuscitation is provided according to evidence based guidelines.
Useful data to collect includes:
Time of arrival to ED (XX:XX)
ROSC upon ED arrival (Y/N)
GCS upon ED arrival (GCS score)
Temperature upon arrival to ED (F)
Time from ED arrival to induction of hypothermia
Times for start and end of induction, maintenance and re-warming phases of hypothermia therapy and time of awakening with GCS score at awakening
Target temperature (F)
Did patient undergo coronary angiography? (Y/N)
CABG, stent UCD placement during hospital stay (Y/N)
Hospital discharge (Y/N)
CPC at hospital discharge (CPC)
---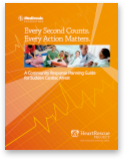 Community SCA Response Planning Guide
Read more information on the role of the hospital in SCA response.